Photo Reports - Dundonnell, Scotland 24-26/03/2006
Photo Gallery
Select a photo to view a larger version
Route Information
Length - 16km
Height Gain - 1143m
Layby on A832 - Loch a' Bhraoin - Leitir Fhearna - Druim Reidh - Toman Coinnich - A' Chailleach - Toman Coinnich - Sgurr Breac - Path in valley - Loch a' Bhraoin - A832
(Red dots on map outward journey, blue dots return)
Munros
Munros climbed on this walk

| Name | Translation | Munro Number | Height |
| --- | --- | --- | --- |
| Sgurr Breac | (Speckled Peak) | 138 | 999m / 3278ft |
| A' Chailleach | (Old Woman) | 144 | 977m / 3271ft |
Walk Description & Map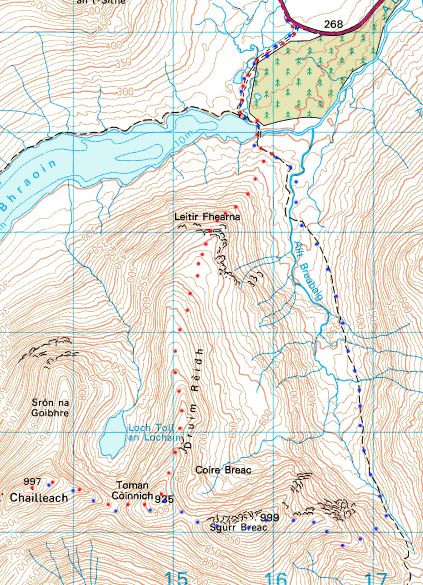 We spent the weekend staying in the Bothy at Badrallach near Dundonnell. The weather was poor to say the least as we arrived on the Friday night after a long drive up from Dundee, after an even longer journey on the train up from Norfolk for me. The road from Dundonnell to Badrallach is rather narrow in places with some very tight turns, so some care was required with the minibus, plus the sheep needed a bit of encouragement to get off the road!
The walk on Saturday took in two Munros in the Fannaichs - A' Chailleach and Sgurr Breac. The weather had improved a bit from the previous night although the cloud base was at approx. 600m, which combined with the snow on the ground higher up made for some tricky navigation. The GPS came in very useful here to avoid the heavily corniced edges which were nearly invisible in places. After some rain for the first hour it cleared up and remained dry for the rest of the day.
A couple of bits of advice I'd pass on after this walk: Firstly when descending Sgurr Breac we cut down off the north side of the east ridge so as to cut the corner to the path in the valley, whilst do-able this route is very steep in places (with some big crags to avoid) and was tricky on wet snowy grass. The time it took to descend probably lost any gained by the shorter route (although provided some excellent snow to slide down at the end!). Also on the return we forded the Allt Breabaig roughly where the blue dots cross the river on the map, however as we discovered 5 minutes later there is now a footbridge just a little bit further downstream at approximately NH163748 so wet feet can be avoided...