Photo Reports - Aviemore, Scotland 04/02/2006
Photo Gallery
Select a photo to view a larger version
Route Information
Length - 20.8km
Height Gain - 838m
Sugar Bowl car park - The Chalamain Gap - Lairig Ghru - Sron na Lairige - Braeriach - (Return by same route)
Munros
Munros climbed on this walk

| Name | Translation | Munro Number | Height |
| --- | --- | --- | --- |
| Braeriach | (Brindled Upland) | 3 | 1296m / 4252ft |
Walk Description & Map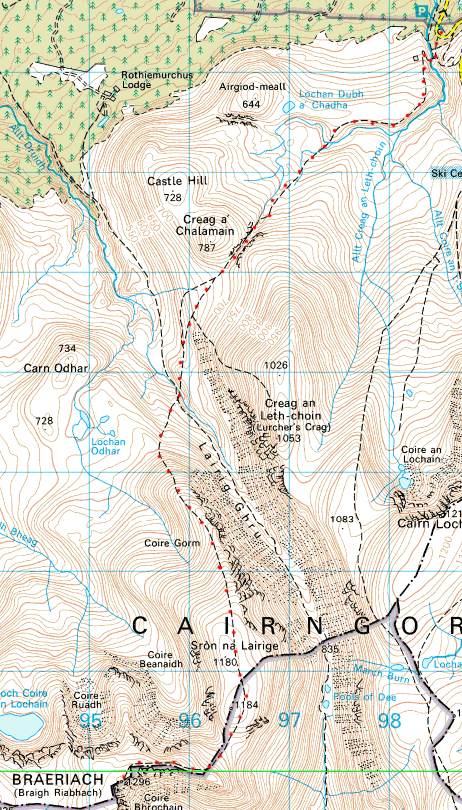 A day trip from Dundee to Aviemore to climb Braeriach. The weather didn't look too promising to begin with but it turned out to be a spectacular day with a great inversion and loads of Brocken Spectres - I think I've got about 20 photos of them, the best 2 are shown here! Apart from a small group that followed us up we had the mountain to ourselves the whole day.
There was a bit of hard icy snow on the summit so we had crampons on for that but otherwise there was little snow. The only difficulty was the patches of ice on the path up, which could easily catch you out. This was an issue when coming through the Chalamain Gap, we had to climb over the rocks higher up as the bottom was covered in sheets of ice.
We got back to the car just as it was getting dark, the walk taking about 7.5 hours, and then headed for Cafe Mambo in Aviemore and a large hot chocolate!